Obituary for Jennifer Ann Chapman
Jennifer "Jen" Chapman, 39, died at 8:47 a.m. on Saturday, July 7, 2018 after an 80-day brave and courageous fight with a sudden diagnosis (4/19/18) of Stage IV Colorectal cancer.

Jen was born on February 20, 1979 in Pikeville, Kentucky. After her high school graduation, she attended Eastern Kentucky University and moved to Lexington, Kentucky where she made her home until her death.

At the time of her death, Jen was a Registered Nurse and on extended medical leave from her position as Nurse Manager for the OB/GYN practice at Good Samaritan/UK. Prior to that position, Jen worked as a nurse in labor & delivery at Central Baptist Hospital. Jennifer was known as an excellent nurse who often was assigned to the more difficult cases of childbirth.

Between these two professional positions, Jen made many close friends who were right by her side throughout her treatment. Jen and her friends shared a real love for one another and as an example of these bonds, her friends Elizabeth Case, Kate Zimmerman, Kim McGinnis, Jennifer Yates, Crissie Emerson, and Katie Bethel assisted Jen's family in caring for her at the hospital. She would always smile when she saw her friends come in the room and appreciated every visit, card, or Facebook message. Jen's friends were a bright light in her life and she in theirs.

The brightest light, however, came from Jennifer's two beautiful children, Jacob Arthur Chapman (age15) and Hannah Elizabeth Chapman (age 13). Jen was a loving and committed mother and her children were the force and strength behind her decision to fight the cancer with everything she had. Jen's greatest sadness was leaving behind Jacob and Hannah and missing so many of their future milestones. Jen was so proud of the strength they showed when learning of their Mom's diagnosis and watching her undergo some very tough treatment. Jen was also immensely grateful that she was able to spend time and say goodbye to her incredible kids before she passed away. Her legacy will live on through them.

In addition to her many friends, colleagues and precious children, Jennifer is survived by her father, Rick Charles (Phyllis) of Lexington. Jennifer's Dad spent many days and nights at the hospital and was a source of strength, especially after her cancer diagnosis. Jen is also survived by her brother, Johnathan Charles (Lexington) and her sister Rebekah (Eddie) Howard (Lexington). Jennifer, John and Rebekah shared a lifetime of memories and remained very close throughout Jen's life. Aunt Jen loved her nieces Lilly, Aubrey and Ava and was looking forward to spending more time with them.

Jennifer was very close to her extended family as well, especially her aunts Teressa Wiseman (Pikeville) and Marsha and Brenda Moors-Charles (Lexington). Jen and her Aunt Teressa had a special bond throughout Jennifer's life and Teressa was also an important presence to Jen during her treatment. Prior to her death, Jennifer was living with Marsha and Brenda, who provided constant care and companionship for Jen during the last several weeks of her life. Marsha journeyed with Jen the entire way, going to every doctor appointment, every round of chemotherapy, and ensuring that someone was with Jennifer 24 hours a day from diagnosis until her death. Jen expressed her gratefulness to Marsha many times and Marsha told Jen how honored she was to walk this path with her. Jennifer inspired Marsha with her positive attitude and never-say-quit determination. With every curve ball and diagnosis, Jen would say "it is what it is" --- and Marsha would reply "let's play the next play".

Jennifer is also survived by her Uncle Doug Charles (Mitzi) of Lexington and was preceded in death by her Uncle Russell Reed. Jen's uncles were a very important part of her life and shared many family memories with her as did Jen's special cousins Jordan Charles, Hollie Charles, Lauren McKinney, Savannah Charles, Paxton Charles, Alex Reed and Dakota Reed.

Jennifer was extremely close to her grandparents and was preceded in death by her paternal grandfather Arthur (Papoo) Charles and maternal grandmother Anna (Granny) Reed. Surviving grandparents are Rabon (Papoo) Reed (Pikeville) and Maynard (Papaw) and Jean (Granny) Daniel of Lexington. Jennifer's grandparents were a constant presence in Jen's life and they shared a great bond. After her diagnosis, Jen went to live with Granny Jean and Papaw Maynard for several weeks and Granny provided around-the-clock care.

Jen is also survived by two aunts (by marriage) that she remained close with —Twilia Charles Duff (Bowling Green) and Cindy Terry (Lexington). A special family friend and retired Markey Cancer nurse, Becky Cochran, was also with Jen every step of the way and is much loved and appreciated. Becky made this journey much easier to navigate. And Jen was an adopted daughter of sorts to Mistie and Robert English with whom Jen shared many memories and was included in all family functions.

Jen would like to specifically thank all those who cared for her during some very difficult days including the physician and staff at Markey Cancer Center and especially to UK Hospitalist, Dr. Andrew Higdon, who was an amazing source of honesty, kindness and compassion as Jennifer's diagnosis grew very dim and controlling her pain and nausea was so difficult. Dr. Higdon was trusted by Jennifer as well as Anne Yates, social worker with Markey Cancer, who journeyed alongside Jen, especially as she made some difficult decisions at her life's end.

Jen will always be remembered for her sarcastic humor, her fiercely independent nature, her intellect and compassion in her nursing career, and the carefree spirit which gave life to all those around her. During her treatment, Jennifer remained positive and very grateful for everyone who visited and to all of her committed caretakers. Jennifer "Jen" Charles Chapman will be deeply missed by her kids, her family, her friends, her colleagues and all the lives she touched. She leaves a huge imprint on the world.

Prior to her death, Jennifer requested a celebration of life service where friends and family would gather to remember the good times and spend time together sharing those stories. This celebration will occur at Clark Legacy Center at 601 East Brannon, Nicholasville, Kentucky on Friday, July 13, 2018 from 6:00 p.m. – 9:00 p.m.

Jennifer specifically asked that In lieu of flowers, expressions of sympathy can be sent as donations to her children Jacob and Hannah. Checks should be made payable to Marsha Charles with "Chapman Children's Fund" in the memo and mailed to PNC Bank, 2235 War Admiral Way, Lexington, Kentucky 40509.
To send flowers or a remembrance gift to the family of Jennifer Ann Chapman, please visit our Tribute Store.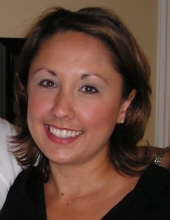 Thank you for sharing your
memory of Jennifer
Provide comfort by sending fresh
flowers from our local florist.
No thanks, please don't show me this again.